(Still) Sculpturally Distanced
The Ranch is thrilled to present the second iteration of our outdoor sculpture exhibition: (Still) Sculpturally Distanced. Started in the summer of 2020 and now on view for a second year, the exhibition includes 19 sculptures by local, national and internationally-acclaimed artists installed throughout the Ranch campus – 10 of them are brand new! A selection of the works are for sale, with proceeds shared between Anderson Ranch and the artists. If you are interested in purchasing a sculpture, please reach out to Meriwether McClorey, Artistic Programs Manager, at mmcclorey@andersonranch.org or call 970/924-5098 for more information.
Read about the participating artists below and tour the campus; we're open from Monday – Friday 9AM-5PM and currently closed on Saturday and Sunday.
1. Ghada Amer Love Grave, 2020 | earthworks
Courtesy of the artist and Marianne Boesky Gallery, New York and Aspen
Love Grave was originally commissioned by the Indianapolis Museum of Art, Indiana in 2003. The letters of the word "LOVE" are dug six feet into the ground, revealing the dichotomy inherent in spelling the word "love" by means of a symbol of death.
2. James Surls Three Worlds, Seven Rings, 2015 | stainless steel
"Three Worlds, Seven Rings / a ring or many / center / concentric / rippling into the Universe Divide / Inside out and outside in / passing in equal time / Trajectory / arc and orbit / each a world their own / locked into gravitational placement / frozen in stillness of movement / caught below the nuclear level / below the Binding is the pull of all things / here and there / now and again / galaxy or shell – each spinning with equal reason / We are whole and Complete in our personal fragments / We are our own."
3. Paula Crown Cloudy.topical 2, 2015 | polished aluminum
Cloudy.topical 2 Crown's practice investigates how landscape can exist in many forms and dimensions. Identifying elements of landscape in the smallest details of her work, CLOUDY reflects this ongoing exploration of time, space and geometries. These immersive sculptures mirror the surrounding space while retaining the organic forms and shapes from Crown's original mark-making exercise.
4. Radcliffe Bailey: Lantern, 2018  |  mixed media with neon
Courtesy of the artist and Jack Shainman Gallery, New York
Working primarily between the mediums of sculpture and painting, Radcliffe Bailey explores the complexity and mystery of contemporary identity in the face of history, ancestry, migration, and collective memory.  His work plumbs the depths of American history in an attempt for a fuller understanding of, and a healing from, this shared past. At once referencing the Underground Railroad as well as Bailey's relationship with his father, who was a railroad engineer, Lantern is about people traveling at night and movement.  Often quilt-like in aesthetic, Bailey's work creates links between diasporic histories and potential futures, investigating the evolution or stagnation of notions of identity.
5. Deborah Butterfield Mark, 2019  |  bronze
Deborah Butterfield's sculptural forms are based on her unique subject, horses. Constructed in wood and cast in bronze, Butterfield builds her sculptures without sketches or maquettes, instead working directly with the wood.  Mark, 2019: "Mark Anderson founded Walla Walla Foundry 40 years ago, and I worked with him the entire time. Casting the wood in bronze changed my career and I treasured my friendship with him. "Mark" was the last piece I made at Walla Walla before Mark Anderson passed away a few weeks later. He was enjoying the minimal, massive qualities of it and then we hugged and said goodbye for the last time. When I was thinking of a name for a redhead I all of a sudden went "Mark"! 
6. Larry White Oblique Abrupt, 2021,  |  steel, found metal objects and Apitong hardwood,
Oblique Abrupt is a sculpture that grew out of the peculiar relationship between an obsession with the rusting behemoth 'pump jacks' found sucking oil from the ground in the scrub deserts of Taft and McKittrick in Southern California, where White lives, and the concept of recycling timbers salvaged from the dismantled structures left behind during the relocation of Sam Maloofs workshop and compound in 2001.  White works intuitively and in a spontaneous manner, combining new steel plates, found metal objects and Apitong, a southeast Asian wood used in constructing Sam's first spiral staircase.  Oblique Abrupt is the eight work in the "Maloof Recycled Beam" series.
7. John Clement Love Exists, 2019 | Steel and Tnemec paint
Love Exists is a dynamic and dramatic union of form, line and negative space emphasizing the impression of implied movement. Clement's work juxtaposes a variety of playing steel coils and arcs that, layered on top of one another, take on a life of their own.
8. Mark Cesark America the Beautiful, 2020 | Fabricated steel and paint
Mark Cesark often works from or is inspired by discarded metal objects; America the Beautiful is no exception. This sculpture was modeled from two small objects – a broken column and eagle – which Cesark discovered in a Boston scrapyard in 1994. Cesark was intrigued by their representational subject matter and their monumental qualities for such small objects. The broken objects reminds one of the turbulent history in this country and the recent unrest and rioting. Cesark's response and reaction can be seen in the graffiti-like layers of paint and symbolism – the artist's reflection of the times.
9. Haas Brothers Michelle O-palma, 2019, hand-carved Pele de Tigre marble
Courtesy of the artist and Marianne Boesky Gallery, New York and Aspen
The Haas Brothers first came to stone carving in their youth, learning from their father the artist Berthold Haas, and returned to marble as a material for their work in 2018.  Community and collaboration are at the fore of the Haas Brothers' practice – for this piece they worked with a woman owned stone carving studio in Portugal, which is traditionally a male dominated craft. Michelle O-palma references the Brothers' ideal of a utopian, female run world and female empowerment, and in a sense signifies the toxic hand of masculinity sinking into the earth.
10. Zakriya Rabani Stronger Together, 2021  |  steel
Incorporating a symbol familiar to many, StrongerTogether references the power of commonality and its ability to link people together.  This work is particularly influenced by the hexagon, whose shape is a phenomenon in itself as it can grow organically and be found naturally all over the world. Rabani believes that objects and symbols such as this have the ability to transport or carry memories and experiences through which we can learn about our past to better prepare for the future.
11. David Kimball Anderson Bodh Gaya, 2016 | cast bronze
Bodh Gaya is a large, bronze Buddha hand, expressing a state of compassion within the universal. Embracing the poetics of Buddhism from the vantage point of beauty within the natural order, this piece reflects the artist's quiet, soulful reverence and deep mindfulness.
12. Brad Howe Walking in the Rough, 2018  |  stainless steel
From a body of totem works, Walking in The Rough, speaks to the spirit of Prickly Pears, Saguaros and Jumping Chollas. Where Walt Whitman meets Will Rogers under a desert moon, tall tales and poetic yarns stack upon each other, a botanical ladder blooms hand grips and foot holds to an eagle's nest from which the ultimate horizon will be charted.
13. Richard Lapedes Time Flies, 2020 | brass plate and steel fittings
Time Flies began with the idea of the metaphor, "time flies" and then the artist selected materials and methods to realize this idea visually. This piece was created using no welding or traditional fasteners and is built entirely of identical modular pieces. Time Flies became itself because the steel plates seem so animated as to be flying. And thanks to time's passage, the constantly changing rust and green patterns give biological life to these wings.
14. John Buck Cirrus, 2000  |  cast bronze
John Buck's artwork is informed by contemporary issues as well as the primitive and folk art of many cultures. The figures represent the human condition from which abstract compositions emanate. The subject of each sculpture can be inspired by social, political and personal concerns.
The headless form of the figure and the assemblage on it's shoulders and around it, at times has specific parallel, and at other times, a more casual reference.  Buck's choice of working with wood helps to keep his work spontaneous and alive. This sculpture was originally made in wood and then cast in bronze.
15. Sizhu Li Mountain Clouds, 2021  |  aluminum sheets, metal wire, metal sticks, swing hocks
"终日看山不厌山,买山终待老山间;山花落尽山长在,山水空流山自闲." In the ancient Chinese poem by Wang An Shi (1021 – 1086), the author wrote that he watches mountains and grows old among mountains all day. Flowers bloom and fade, streams come and go, there only mountains remain, leisurely. The shape of Li's Mountain Clouds is inspired by this poem and the shape of the Chinese character "山", which means mountain. Symbolically, the two movable waves of the sculpture are drifting clouds around the mountains. Clouds drift, mountains remain. Instead of being drifted by desires or material possessions, this work inspires the life quality or state of being free from disturbances.
10. K Rhynus Cesark Colloquy II, 2020 | porcelain, digital ceramic pigment
Colloquy II addresses the act of engaging in conversation or dialogue to reach common ground.  The installation implies and supports the condition of individuality.  Each row of identical houses face opposing directions. The houses are mirror images of one another.  Cesark's metaphorical use of the mirror image explores the narrative of direct opposites.  The last or bottom row hosts one cloud covered house orientated in the opposite direction. This imagery is intended to bring attention to their differences.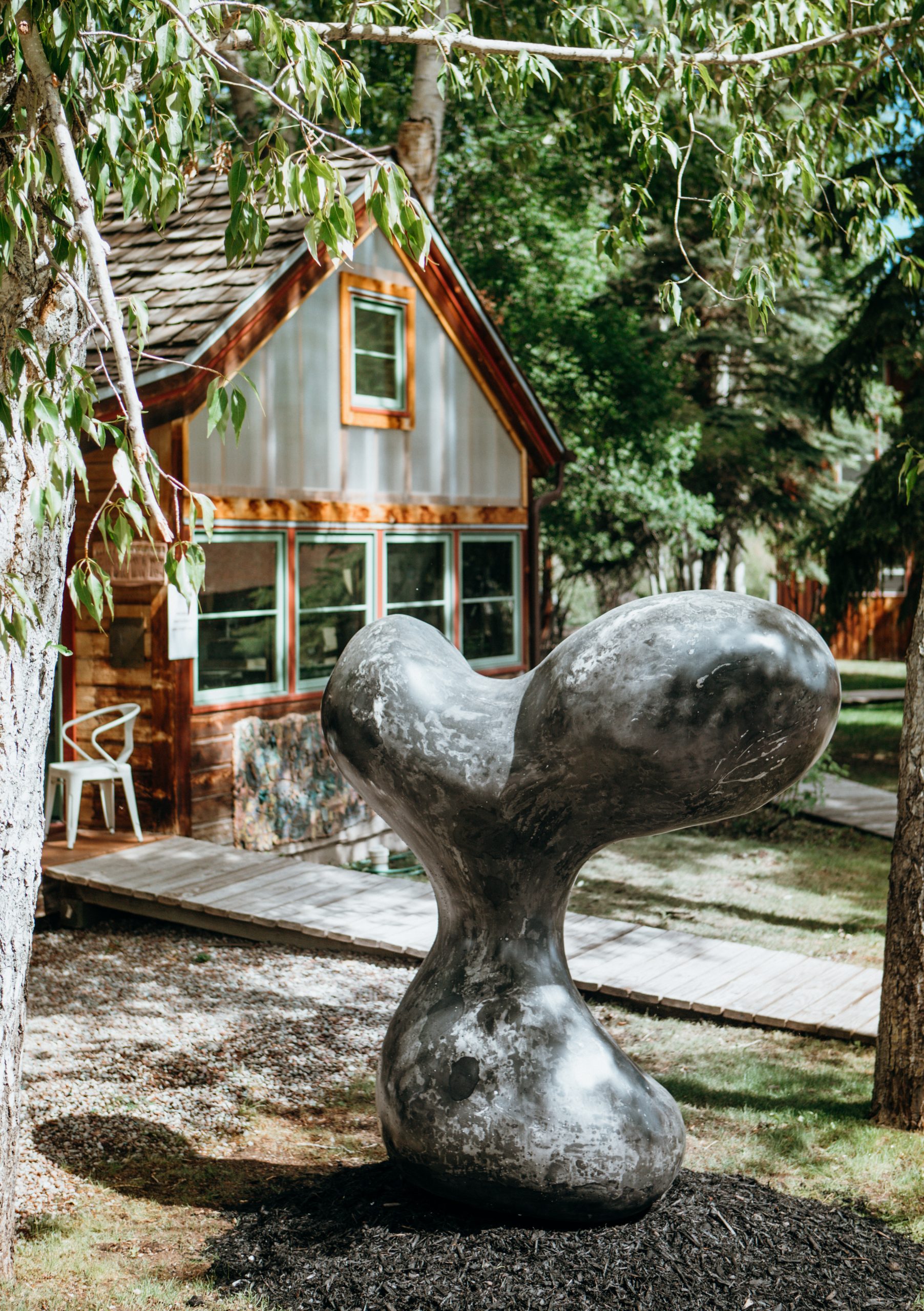 17. Rogan Gregory Stallion, 2020,  |  gypsum and steel
Courtesy of the artist and R & Company, New York
Historically the black stallion symbolizes courage and freedom. This majestic animal is a being of power, independence, nobleness, endurance, confidence, triumph and heroism. In some cultures, however, this animal is a symbol of darkness –  a token of war and the apocalypse. This humble vegetarian equine however is none of those things if left to run free without labels assigned by humans. It is human nature to dominate, tame and neuter the landscape and the symbols of freedom that exist in the wild. Now that humanity has proven that they can harness this totem of virility, the new novelty is "un saddled untamed wild" …..  This sculpture is a representation of what once existed and what could be a new mythology in the American "wild west."
18. Fischer Cherry Only In My Dreams, 2021  |  wood and found satellite dishes
Only in My Dreams is an interactive sculpture that acts as a portal when walked through and symbolically represents a shared human connection. The sculpture consists of charred Aspen logs and discarded satellite dishes. Fischer chose dead Aspen trees due to their historical meanings. In Greek Aspen is "aspis," meaning shield, and in Celtic mythology the Aspen means language, communication, endurance and resurrection. Fischer observed the shared isolation felt at the beginning of the pandemic and how important connection is for humanity. The representation of the Aspen as communication and resurrection felt very appropriate during this time. This sculpture is part of a larger body of work that explores how mutual dependence is crucial to social wellbeing.
17. Enrique Martínez Celaya The Savior, 2008 | bronze
The Savior is a bronze sculpture from 2008, depicting a deer pulling his homeland with its mountain and lakes. The homeland is attached to the deer's antlers suggesting that it is both a source of guidance and growth and also as an attachment to who we used to be.