Lodging
Anderson Ranch closely follows guidance released by the Centers for Disease Control and Prevention, the State of Colorado and the Pitkin County Health Department. In order to operate safely during the ongoing COVID-19 pandemic, Anderson Ranch has made significant modifications to our housing and meal offerings for Summer 2021. We have established a Business Safety Plan with added layers of precaution that prioritizes the health and safety of our staff, students, faculty and guests while continuing to provide you with the Anderson Ranch experience that you know and enjoy.
Please be aware that health orders could be extended, amended or changed as needed to protect public health, which may impact Anderson Ranch's Housing and Meals offerings and protocol. Click here for more details about registration and cancellation policies.
Summer 2021 Housing Options
Anderson Ranch has made some exciting new changes in the Ranch Café! The Café is now offering a creative globally inspired menu, coffees and teas, and a delicious and convenient Grab & Go program in addition to full meals. You'll find the Café a peaceful and inspirational environment to relax with fellow community members and artists from all over the world.
During the summer the Café serves three meals a day, Monday through Friday, as well as dinner on Sunday and a continental breakfast on Saturday. All food preparation is overseen by ServSafe-certified employees. The Café has comfortable indoor and outdoor seating that is arranged in accordance with current health and safety guidelines. Meals may be ordered to go for individuals who would like to dine in other areas of campus. There will be space across campus set aside for additional outdoor dining.
Allergies
Anderson Ranch takes food allergies very seriously and is not equipped to handle allergic reactions. If you have specific dietary needs or life threatening allergies, booking your own accommodations off campus is your best option so you have access to a refrigerator and cooking facilities.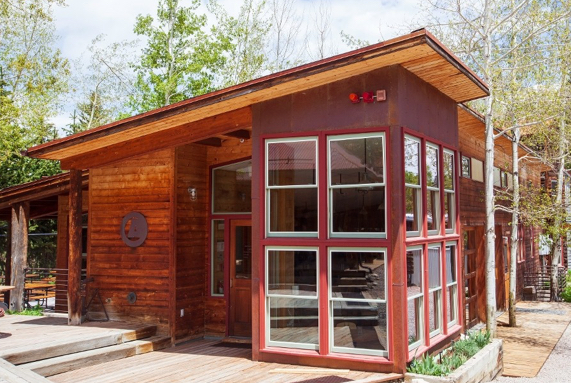 Ranch Café Gift Cards
For your convenience, Ranch Café Gift Cards are available in the amounts of $100, $200 and $300 and will be distributed in the form of a QR code, which is scanned from your phone at checkout and can also be used online to place an order. Gift cards valued at $300 are a good choice for students who are eating all their meals at the Ranch during the week. For individuals who are only dining in the Café for some of their meals the $100 or $200 gift card may be a better choice. Please select your gift card amount carefully as the Ranch is unable to grant refunds and they expire at the end of the calendar year.
Ranch Café Gift Cards can be purchased during registration, online or in person in the Café once you have arrived on campus. Gift cards are subject to a sales tax of 10.4% except when purchased in advance as a package with lodging (in which case meals are exempt from the 10.4% sales tax).
Ranch Café Offerings
Beverages: A made-to-order beverage menu is available throughout the day beginning at 7:30AM, offering for purchase a full espresso selection, premium teas, smoothies and specialty drinks.
Breakfast: Served from 7:30AM to 8:30AM, breakfast is served a la carte and includes a selection of fresh fruits, locally roasted coffee, tea, yogurt, juices, cereals, oats and assorted pastries and bagels with a variety of accompaniments. A selection of hot food offerings will be available as well.
Lunch: Served from 11:45AM to 1:45PM, lunch provides a wonderful opportunity to sit down with other artists, peers, and community members to chat, make new friends, and find out what's happening in other workshops. A rotating a la carte lunch menu will feature international cuisine prepared by our in-house chef and the Café team. Workshops are assigned staggered lunch shifts between 11:45AM and 12:45PM, which students are asked to honor, in order to maximize selection and minimize crowding.
Dinner: Served from 6-7:30PM and features a choice of meat and vegetarian entrées, a vegetarian side dish as well as a starch. The meal will finish with a chef's choice dessert including but not limited to a variety of cookies, pies, tarts, dessert bars, cakes, etc.
Click here to learn more about the Ranch Café and see a sample menu.