Lodging
Anderson Ranch closely follows guidance released by the Centers for Disease Control and Prevention, the State of Colorado and the Pitkin County Health Department. In order to operate safely during the ongoing COVID-19 pandemic, Anderson Ranch has made significant modifications to our housing and meal offerings for January 2022. We have established a Business Safety Plan with added layers of precaution that prioritizes the health and safety of our staff, students, faculty and guests while continuing to provide you with the Anderson Ranch experience that you know and enjoy.
Please be aware that health orders could be extended, amended or changed as needed to protect public health, which may impact Anderson Ranch's Housing and Meals offerings and protocol. Click here for more details about registration and cancellation policies.
January 2022 Housing Options
Housing offerings are very limited and available on a first-come, first-served basis. The earlier you reserve housing, the better your chance of receiving your preferred option. Anderson Ranch is offering one single-occupancy housing option for January 2022. Shared housing options will not be available. For the safety of the Anderson Ranch community, Ranch-provided housing is only available to students who are attending workshops.
Rates below reflect six nights of accommodations as well as select meals. A sales and lodging tax of 12.8% will be added to the lodging portion at the time of registration. To guarantee your housing reservation, payment is due in full 60 days prior to the start date of your stay. Smoking and pets are not permitted at Anderson Ranch or in Anderson Ranch-provided housing.
On-Campus Housing at The Wyly House Dorm
Room Type: Private room with twin bed and private bath on campus in The Wyly House Dorm.
Rate includes six nights of accommodations as well as select meals.
Room & Board Rate: $895 per week (plus 12.8% tax on the lodging portion) for six nights. 
Select Option B1 in the registration shopping cart.
Wyly House Dorm check-in begins at noon the Sunday before your January Studio Concentration or Facilitated Studio Practice. Check out is by 10AM Saturday following your workshop.
Parking is available in the main lot and is by permit only. A permit will be provided upon arrival for guests of the Ranch with vehicles.
While staying with us should you need any assistance with your on-campus lodging, please contact the Ranch Guest Services team at 970/948-7194 or via email at  guestservices@andersonranch.org.
The Wyly House is a two-story, co-ed building conveniently located on the Anderson Ranch campus and is situated between the Ranch Café and the Snowmass Club golf course. There are 12 clean and modest bedrooms with private bathrooms, a lounge and communal laundry room. Each room is equipped with a mini refrigerator and microwave. Anderson Ranch housing is cleaned according to CDC guidelines. One set of linens and bath towels are provided. Routine cleaning of housing during the week is limited to common spaces and commonly touched surfaces. Students under the age of 18 are not permitted to stay in The Wyly House dormitory or in any Ranch-provided lodging. Students can secure transfer from the Aspen/Pitkin County Airport (ASE) to Anderson Ranch via the Roaring Fork Transportation Authority free bus service or by High Mountain Taxi Aspen.
The Ranch Café is now offering a creative inspired menu, coffees and teas. You'll find the Café a peaceful and inspirational environment to relax with fellow community members and artists from all over the world.
The Café has comfortable indoor seating that is arranged in accordance with current health and safety guidelines. Meals may be ordered to go for individuals who would like to dine in other areas of campus.
Allergies
Anderson Ranch takes food allergies very seriously and is not equipped to handle allergic reactions. If you have specific dietary needs or life-threatening allergies, booking your own accommodations off campus is your best option so you have access to a refrigerator and cooking facilities.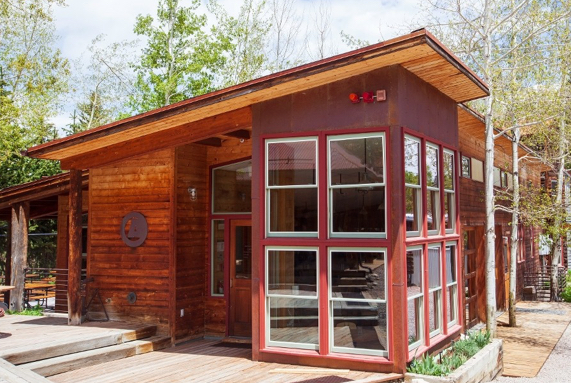 Ranch Room & Board Meal Plan
The Ranch Café meal plan that is included with your "Room and Board" (R&B) fee strives to provide healthy, creative meals that will nourish your artistic creativity. The R&B plan includes 5 days of continental breakfast that will include a hot offering, 5 lunches with a selection of offerings, and 5 dinners.
Ranch Café Offerings
Breakfast: Monday to Friday: Served from 8AM to 9:30AM, breakfast is a continental style breakfast and includes a selection of fruits, locally roasted coffee, tea, yogurt, juices, cereals and bagels with a variety of accompaniments. Hot food offerings will be available as well at 8:30AM and rotate each day.
Lunch: Monday to Friday: Served from 12PM to 1PM. All lunch orders must be placed through the Café's online ordering system before 11AM. Lunch provides a wonderful opportunity to sit down with other artists, peers, and community members to chat, make new friends, and find out what's happening in other winter programs. A rotating à la carte lunch menu will feature a selection of choices prepared by our in-house chef and the Café team. Click here to view the online menu.
Dinner: The Ranch Café will have two different meal services on different days of the week for our winter program series.
Monday to Friday: Dinner is served from 6-7PM and features choices that will include a creative salad, meat and vegetarian entrées, side dish as well as a starch. The meal will finish with a chef's special dessert. Students and faculty only. Food is presented in a buffet at 6PM. For the best experience, please arrive at 6PM.
Sunday: There is no service in the Café on Sunday, with the exception of the Welcome Dinner on January 2nd for students and faculty.
Click here to learn more about the Ranch Café and see a sample menu.
Beverages: The Café will be open throughout the day for made-to-order espresso drinks and a selection of other offerings from our grab-and-go cooler. These offerings are available for purchase. Beverages with the R&B meal plan include: coffee, tea and orange juice for breakfast, lemonade and iced tea for lunch and dinner.  All other beverages are available for purchase.
Weekends:  The dormitory will be lightly stocked with a few items to get you through the weekends when the Café is closed.