An Art Original Since 1966
"It is a center, not a school. We're different."

— Paul Soldner, Founder of Anderson Ranch Arts Center
In the beginning…
It was the vision of prominent American raku ceramist Paul Soldner combined with an incredible land opportunity that paved the way for what Anderson Ranch is today—one of the most respected visual arts programs in the country.
In 1966, just as the ski industry began to blossom, local resort developers envisioned an arts and cultural center for the valley and surrounding community. They called on Soldner, who chose the Anderson Ranch property as the location for that venue, to make it a reality.
Soldner and his contemporaries, photographer Cherie Hiser, clay sculptor Peter Voulkos, woodworker Sam Maloof and many others, planted the seeds for an arts center that was decidedly different from existing degree-focused programs.
"It seemed important that we do things differently than can be done in college," Soldner expressed early on. Thus, core principles of the Ranch were born and are still carried on today:
small class sizes allowing for personal attention and access to faculty
24/7 studio availability to encourage unbridled creativity
art making as a way of life and a professional path
the value of giving more than you take–and making for others to enjoy
There was much personal sacrifice required to make those initial dreams a reality—one which continues to evolve and grow. Follow the timeline below to see the major milestones achieved along the way…
1960s
1966
Paul Soldner chooses Anderson Ranch as site for art center
Photo taken by Paul Soldner; copyright courtesy of Soldner Descendant's Trust.
1969
Brad Reed working in the ceramics studio
Brad Reed and Hank Marrow run Colorado Mountain College classes here in the late '60s.
1970s
1971
David Ellsworth in the woodturning studio
David launches the woodturning program, and the first painting workshops are offered.
1971
Tuesday night potlucks
Potluck dinners bring the Snowmass Village community and Anderson Ranch artists together.
1973
Anderson Ranch Arts Center is formed
Center of the Hand (Paul Soldner) joins with Center of the Eye (Cherie Hiser) to form Anderson Ranch Arts Center
Photo of Cherie Hiser taken by David Hiser.
1973
Sam Maloof teaches first woodworking workshop
1973
Anderson Ranch becomes a 501(c)3 nonprofit
Mary Martin establishes the Snowmass Arts Foundation nonprofit (later changed to the Anderson Ranch Art Foundation).
1974
Community leaders incorporate a Board of Trustees
1978
Anderson Ranch with Mount Daly in the background
Rustic log buildings are collected from four ranches in the valley and brought to Anderson Ranch Arts Center.
1978
Dows Barn
The printmaking studio is established in the basement of the Dows Barn.
1979
1st Annual Art Auction
The first Annual Art Auction was lead by Director Caleb Bach in 1979. Pictured above is the Auction in 1985 with Auctioneer Jim Chaffin and Director Brad Miller leading the festivities.
1980s
1980
Anderson Ranch transforms from a sleepy summer workshop program to a dynamic year-round arts center
Catalog model for summer workshop mailing is put into action
Mass mailing to several thousand (previous only 100)
Increased number of workshops
Community rallied behind first major capital improvements
First contributions from valley residents and businesses
First grant is written and received – from the Boettcher Foundation
1981
Renovation of Dows Barn
The Dows Barn Gallery (named after President of Directors, Judy Dows) opens and becomes first winterized year-round structure.
1981
The Ranch takes ownership
Chaffin and Light/Snowmass Corporation deeds all property and buildings to Anderson Ranch Arts Center.
1981
The Gates Barn
Chaffin and Light/Snowmass Corporation give the Gates Barn to Anderson Ranch. The barn is moved from the golf course. Anderson Ranch continues to collect ranch buildings from the Brush Creek Valley.
1981
First Visiting Artist program begins
Summer painter/printmaker program brings nationally recognized artists to work with master printers Bud Shark and Craig O'Brien. Artists include Ed Ruscha, Red Grooms, Robert Mangold, Laurie Anderson, Robert Natkin and James Rosenquist.
1982
Visiting Artist Laurie Anderson
Laurie Anderson is invited to participate in a print project with Bud Shark.
1983
Inaugural California Clay in the Rockies
The first California Clay in the Rockies symposium attracts 100 attendees.
1984
Ranch receives the Governor's Award for Excellence in the Arts
1984
Sam Maloof Wood Barn opens
1984
Children's Art Program begins
Evelyn Siegel and Susan Casebeer launch workshops for children.
1985
First scholarship is offered
1985
Emphasis on faculty
Ranch Director brings in top level Artistic Directors and Studio Coordinators to head programs
1986
Fischer Photography Center opens
After breaking ground on the Fischer Photography Building in 1985, the new studio opens in 1986.
1986
Artist-in-Residence program begins
Winter residency program begins with three emerging ceramic artists.
1988
Wyly House and Dining Hall opens
1989
Record–breaking enrollment
929 artists in 70 workshops
1990s
1990
Awards and recognition
Anderson Ranch receives the Colorado Council on the Arts and Humanities Highest Merit Award
1990
Campus size increases
Construction of new buildings increases the Ranch campus size to 55,000 sq ft. Architect Harry Teague begins renovation of key Ranch buildings, the start of a 30-year relationship with the Ranch.
1990
The Carlson Cabin
The Carlson Cabin, later renamed the Marbrook Cabin, was relocated to make way for the current painting building.
1990
Bill Elzey photographing the Grottos in Aspen, Colorado
1990
Christo in the Anderson Ranch Patton-Malott Gallery
1990
Collaboration with Aspen schools
James Surls presenting to Aspen school children in the Anderson Ranch Patton-Malott Gallery.
1990
Siegel Children's Building opens
1991
Dee Wyly Painting Building opens
1993
Schermer Meeting Hall replaces the tent
1993
Anderson Ranch Arts Center joins the Alliance of Artist Communities
The Ranch forms connections with other art centers and schools.
1994
Takashi Nakazato in the Visiting Artist studio
Takashi is a 13th generation potter from Karatsu, Japan, and has been a Visiting Artist of the Ranch for 20 years.
1995
Art all-stars work at the Ranch
Starn Twins, Dennis Hopper, Maya Lin, James Rosenquist, Calvin Thompson, Sally Mann and Larry Bell.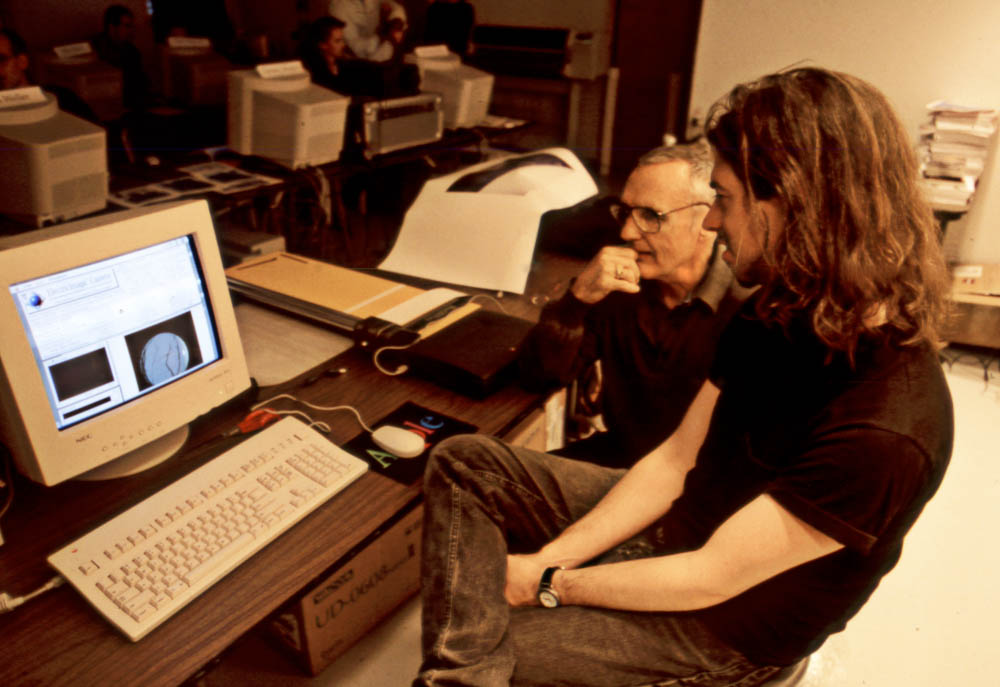 1995
Digital media begins
Dennis Hopper and Doug Starn in the digital media lab testing out Adobe Photoshop 1.0
1996
Groundbreaking commences for the Soldner Ceramics Studio
2000s
2000
Tim Berry and Bill Wylie in the Print Shop
2002
David Ellsworth in the woodturning studio
Alumni come back year after year to teach workshops.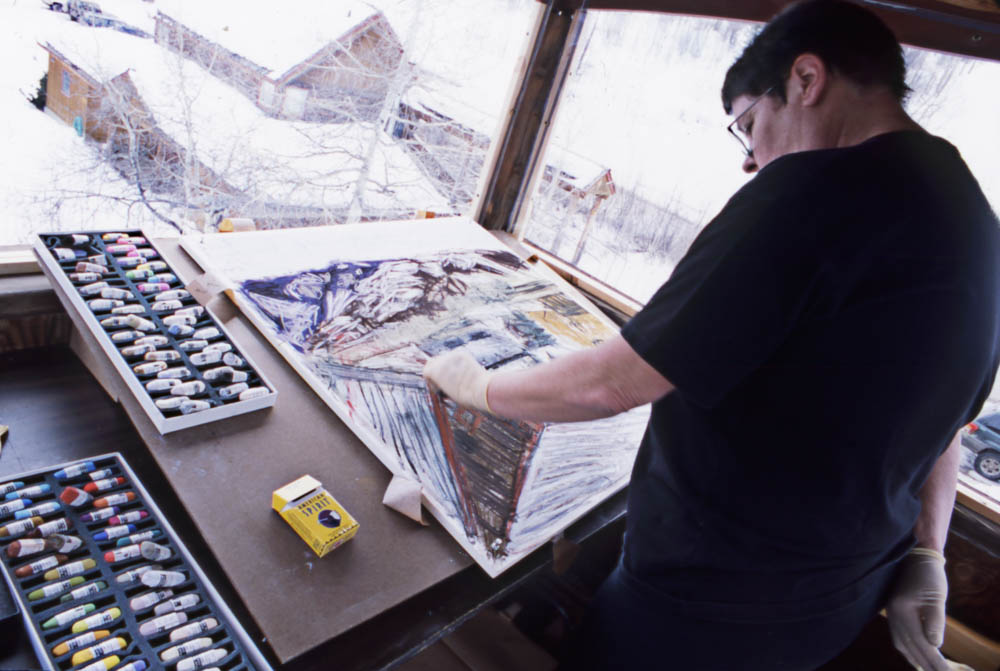 2002
Visiting Artist Jennifer Bartlett drawing Anderson Ranch from above
2010s
2011
Artist-in-Residence Paul Anthony Smith
2014
Anne Pasternak in conversation with Steve McQueen
Anderson Ranch presents a two-day symposium, "Making the Change They Want to See", with keynote speaker and Oscar-winner, Steve McQueen.
2014
Anderson Ranch Arts Center's Scholarship/Partnership Program is established
Anderson Ranch partners with colleges and universities to award scholarships to upper level aspiring artists, bringing undergraduate and graduate art students from a broad array of backgrounds to the Ranch. Partner schools include Amherst, CalArts, Georgia State, Harvard University, Kansas City Art Institute, Rhode Island School of Design, Skidmore, Syracuse, UCLA, University of Colorado, University of Texas, Austin, Washington University, Yale University and over 50 more…
2015
Anderson Ranch honors Frank Stella with the National Artist Award
Board of Trustees Chair, Ann Korologos, with Frank Stella and Executive Director, Nancy Wilhelms, at the 2015 Recognition Dinner at the Hotel Jerome in Aspen.
2016
50th Anniversary
The Ranch celebrates its 50th Anniversary and plans for the next 50, a bright future filled with exciting opportunities to fulfill our mission and create change.