Another fabulous week at Anderson Ranch! We are gearing up for the 34th Annual Art Auction & Community Picnic, which is held tomorrow – Saturday August 9th – starting at 11am. Tents are up, 200+ pieces of artwork have been installed, Paddle8 ipads for bidding are onsite, and the cookie oven has been working overtime. This is such a fun event for art lovers, the community, and Ranch staff – be sure to come by if you are in the Valley! Art is available at many price points, and all proceeds benefit our art education programs.
We had many familiar and long-loved faculty members teaching workshops this week. John and Andrea Gill  in ceramics, as is Sunshine Cobb. Susan Working and Gail Fredell team taught in wood and Karen Kunc was keeping things rolling in print. Teresa Booth Brown had her class focused on small-format painting. David Ellsworth taught a master class in woodturning as Evelyn Siegel and Wendy Ellsworth each taught a half-day workshop in the children's building. David Kimball Anderson & John Lloyd were deeply involved in their workshop, small-scale bronze casting. New to the Ranch was Carol Fonde teaching color photography.
Ceramic artist Ron Nagle has spent the week with us as a Visiting Artist and gave an entertaining lecture Thursday afternoon as well!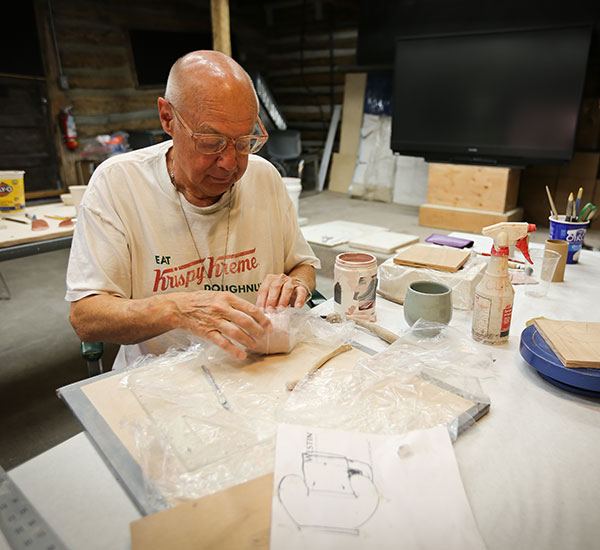 More information about the Art Auction here