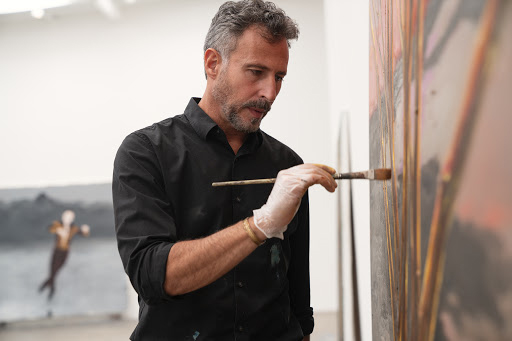 Enrique Martínez Celaya
Enrique Martínez Celaya is an internationally renowned artist, as well as an author and former scientist whose work has been exhibited and collected by major institutions around the world. He is the first Provost Professor of Humanities and Arts at the University of Southern California and a Montgomery Fellow at Dartmouth College.
Enrique's Upcoming Workshops
P

INTENSIVES

Multi-week programs designed for artists of varying skill levels to immerse themselves in the studio practice of their choice while working alongside established faculty.

IV

Level IV

Students have advanced skill and knowledge of painting and drawing. Students are highly motivated and self­-directed, have a minimum of five years experience in their field and have multiple portfolios of their artwork. Portfolio review is required for admittance to some Level IV classes.
Aug 16 - 20, 2021
9AM-5PM
Advanced Painting
Enrique Martínez Celaya
Tuition $1,600
Code D1106-21
Explore the strengths and limitations of your current work and practice in order to re-energize them in this one-week, advanced painting and critique workshop—the last in this three-year mentored study. Students have studio space and all approaches are welcome. This workshop provides guidance and resources for participants to expand their skills and further their artistic trajectories. Time is equally divided between critiques and working sessions. This course is for artists who have considerable painting experience, especially those familiar with contemporary practices and theory. This class is in the third year of a three year program. Please contact Liz Ferrill for more information. lferrill@andersonranch.org. Portfolio Review Required: Thank you for your interest in our Level IV painting workshops at Anderson Ranch Arts Center. Since a portfolio review is required, the instructions on how to submit your portfolio are provided here. In order to conduct the required portfolio review, we will need to see digital images of your work in one single PDF (as opposed to individual JPG attachments) sent directly to Anderson Ranch Studio Coordinator, Paul Keefe, via email at pkeefe@andersonranch.org. Please include 10 images of 10 works. Additionally, please include an image identification list that includes: title, media, dimensions and year. While not required, it is helpful to see an artist statement addressing the images you send. Lastly, please provide a phone number where you can be reached and a link to your website. These materials must be submitted as a single PDF (less than 10 MB) to be considered. Please include "Advanced Portfolio Review" in the subject line of your email, as well as the title of the workshop for which you are applying. Submissions that do not follow the requested directions will not be reviewed. To be considered, Paul Keefe must receive portfolios by 5 PM MST Friday, June 18, 2021. We will email you regarding your status on or before Friday, July 2, 2021. If you are accepted, the full cost of the workshop will be due to hold your place. Housing will be assigned on a space-available basis upon enrollment. Please note, if we receive your materials after June 18, you will be considered on a space-available basis. Thank you for your interest in our advanced painting workshops. Please feel free to contact Liz Ferrill with any questions at lferrill@andersonranch.org or 970/924-5076.