Code:
Fall Studio Sessions: Digital Fabrication
Oct 16 - Nov 9, 2023
Monday - Thursday 9AM-5PM
Participants may register for one, two, three, or all four weeks.
TUITION is $800 PER WEEK
Concept
Are you looking for a space to ignite your creativity or finish an ongoing project? Join our Fall Studio Sessions at Anderson Ranch, where you'll have the time, space, and support to expand your artistic practice. This program welcomes artists of all backgrounds and provides dedicated studio space, access to our multifaceted facilities, and the guidance of our talented staff. Engaging group discussions are included to inspire your creativity. Take this opportunity to join our artistic community and let your creativity flourish this fall.
*Studios are open 24 hours a day with limited use of equipment due to safety requirements. The machine rooms are only available when monitored – Monday –  Thursday 9 AM-5 PM, and Mondays and Wednesdays 7 PM-9 PM. 
IMPORTANT DETAILS:
Students will be responsible for all material costs associated with their projects.
There is no on-campus housing or meals available for this Fall program.
Participants who register for consecutive weeks will gain additional access to their studio from Friday through Sunday. This additional studio time will not include access to the machine rooms due to safety constraints nor are Ranch staff available for support on those days.
To participate, discuss your project goals and/or submit a portfolio to Visiting Director of Ceramics and Expanded Media Betsy Alwin at balwin@andersonranch.org.
Faculty
Emil Gorman
Studio Coordinator, Digital Fabrication
Emil Gorman is the Studio Coordinator for Digital Fabrication. He is an artist and designer with a passion for furniture and the implementation of sustainable materials. He received a BFA with a concentration in Human-Centered Design at Northern Michigan University. Preferred Pronouns: He/Him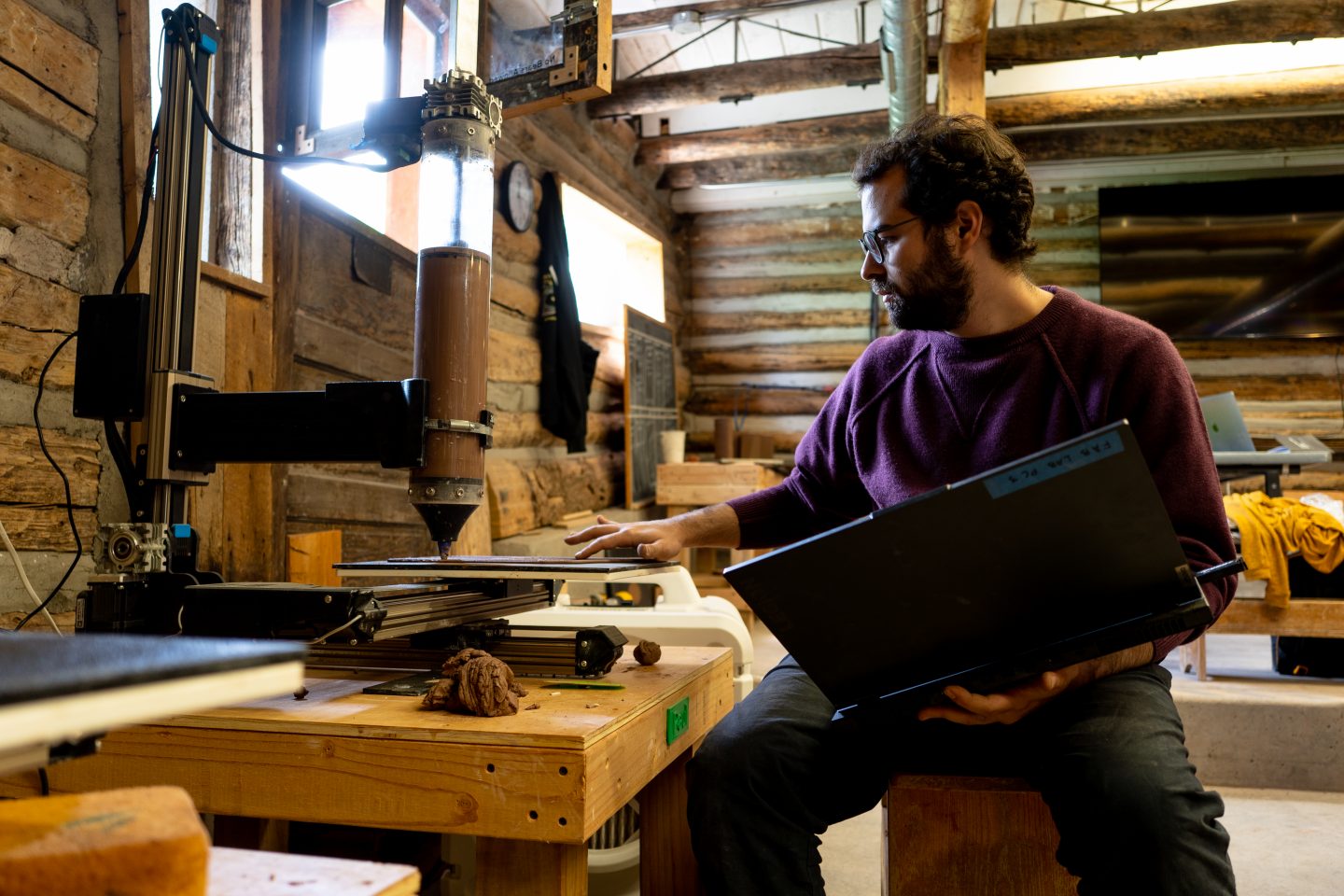 Tuition: $800.00
Studio Fee: $50.00
Registration Fee: $45.00
Digital Fabrication
Discover the exciting, cutting-edge tools available in our FabLab — Anderson Ranch's impressive digital fabrication lab. These workshops provide powerful tools for self-expression in the hands of creative faculty, and present dynamic opportunities to merge the newest visual arts technologies with traditional processes.
A variety of workshops use the digital fabrication technology in the FabLab and throughout multiple studios on the Ranch campus. Explore the possibilities with our state-of-the-art equipment, including 4-axis CNC (computer-numerically-controlled) routers, Formlabs SLA Resin 3-D Printers, Prusa MK3S FDM 3-D printers, Epilog laser cutters, 3-D scanners, a Roland UV printer and vinyl cutter, and vacuum formers. Digital fabrication equipment is powered by Rhinoceros 3D, Adobe Creative Cloud, Autodesk Fusion 360 and Meshmixer, a variety of 3-D printing slicing softwares, and more.
Our expert faculty help you to master progressive new skill sets and exciting new ways of creating.
Lodging & Meals
Housing is limited and includes shared and private lodging options. Reservations will be managed on a first-come, first-served basis. The earlier you reserve housing, the better your chance of receiving your preferred option. Please note: Workshop costs do not include accommodations. There is no housing or meals available for Fall Studio Sessions Studio Practice programs.
We have established a Business Safety Plan with added layers of precaution that prioritize the health and safety of our staff, students, faculty and guests while continuing to provide you with the Anderson Ranch experience that you know and enjoy.
The Ranch Café meal plan that is included with Room and Board fees strives to provide healthy, creative meals that will nourish your artistic creativity. The meal plan includes 5 days of continental breakfasts that will include a hot offering, 5 lunches with a selection of offerings, and 5 dinners.
Health & Safety
Beginning February 2023, Anderson Ranch will no longer require proof of Covid-19 vaccination for studio and artistic program participants. For your own safety as well as the safety of our community, we highly encourage all program participants to be up to date with their vaccinations for COVID-19 as well as the flu vaccine. We also encourage you to carry health and traveler's insurance.
Scholarships, College Credit & Discounts
Making Art Accessible
Applications for scholarship support are encouraged. Specific scholarships are funded by Ranch supporters, either through endowed funds or special gifts.
Many colleges and universities offer college credit for workshops taken at Anderson Ranch. Discounts are available for students and teachers.
Learn More
You Might Also Be Interested In>
O

Open to All

Students of any skill and knowledge level.
Jan 8 - 19, 2024
9AM - 5PM Monday - Friday
Collage and Combined Techniques
K Rhynus Cesark
Tuition $1,975
Code JANSTU2024P
Expand your collage techniques with digital and traditional processes to create simple and layered composite images and constructions. Combine painting, drawing, printmaking, photography, wood, paper and found or fabricated imagery to tell your story. Students use the laser cutter to cut or engrave paper or other materials and push their imagery further by utilizing the capabilities of the UV printer. Demonstrations include collage, nontoxic resin, laser engraved imagery and cutting, and transfer techniques. Participants will have the freedom to explore individual projects with the assistance of the fabrication lab assistants.
Jan 8 - 26, 2024
Monday-Friday, 9AM-5PM
Participants may register for one, two, or three weeks.
TUITION is $1050 per week or $3150 for three weeks.
January Studio Sessions: Digital Fabrication
Emil Gorman
Tuition $1,050
Code
Anderson Ranch's January Studio Sessions provide artists the opportunity to work on independent projects while receiving mentoring and critique sessions with Anderson Ranch artistic staff and interns. Each participant receives an assigned studio space, orientation, and access to equipment, as well as some morning group demonstrations and / or critiques. This program affords artists the experience enjoyed by national and international artists who access our state-of-the-art studios. Participants may expand their practices, take artistic risks, try new media or complete works for exhibition. *Studios are open 24 hours a day and on weekends for students enrolled in multiple weeks, with limited use of equipment due to safety requirements. The machine rooms are only available when monitored – weekdays 9 AM-5 PM. Evening monitoring hours are Mondays - Thursdays, 7 – 9 PM. IMPORTANT DETAILS: Students will be responsible for all material costs associated with their projects. Participants who register for multiple consecutive weeks will gain access to the studios on weekends (with the exception of the machine rooms due to safety constraints.) Private dorm rooms are available at Anderson Ranch for one, two or three weeks for an additional fee; please inquire for details and availability. Applicants must submit project proposals or portfolios for approval. Contact Betsy Alwin to apply: balwin@andersonranch.org