Code: JANSTU2023P
O

Open to All

Students of any skill and knowledge level.
Photographic Collage: A Painterly Approach
Jan 9 - 20, 2023
9AM-5PM
Concept
Join us for an engaging exploration of the artistic synthesis between two distinct art forms: photography and painting. The workshop takes a truly hybrid approach as it is designed for painters interested in incorporating photographic imagery and photographers interested in the physicality of painterly manipulation. Discover transfer techniques that integrate photographic images and text directly onto stained surfaces, resulting in intriguingly complex works. Using traditional collage combined with digital transfers to explore methods that allow for opaque and translucent layers. Reductive methods such as sanding and scraping reveal the history of earlier photographic layers and suggest an archaeological approach to image development. While the workshop introduces a variety of techniques, emphasis is placed on the unique conceptual power of collage and montage imagery and end of week critiques refocus participants on the expressive and narrative elements of the artworks produced. While the workshop is designed to accommodate all skill levels, students with some experience in digital photography workflow are able to maximize the variety of techniques explored in the workshop.
Media
Traditional collage, introductory digital techniques and manipulation, other photographic materials including text and image, scanning, sanding, scrapping and other reductive methods of making
Supply List
Faculty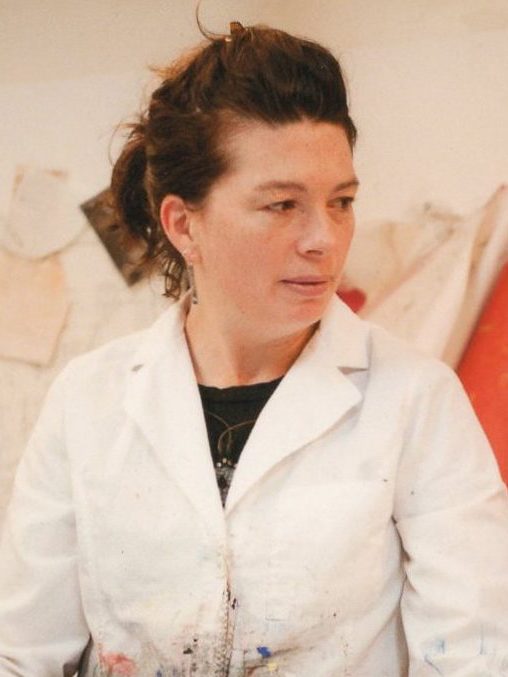 Kate Leonard
Kate Leonard is a professor of art at Colorado College, where she directs the Graphics Research Lab, an innovative program in printmaking. Her work is exhibited nationally and internationally.
Join Waitlist for Photographic Collage: A Painterly Approach
Photography & New Media
Photography has always been a vital part of Anderson Ranch, one in which students explore visual storytelling through a variety of contexts and concepts. The program has uniquely evolved to focus on both traditional photography and new media— making it one of the only workshop settings of its kind. Three floors of the Fischer Photography Center house state-of-the-art equipment, including three photography studios, two Mac labs, a traditional darkroom, and a lighting studio with strobe and continuous lighting for photography and video.
All Photography workshops are rooted in the same idea—powerful art requires rigorous inquiry of techniques and ideas. We focus on technical skills, content and critical dialog. Students have access to color-managed media labs equipped with 24-inch iMacs, flatbed and film scanners, Epson printers, and cutting-edge software including Adobe Creative Cloud. When appropriate, students utilize strobe and tungsten lighting equipment, seamless backdrops, green screen, audio and video recording equipment and Epson large-format printers.
The Ranch Photography and New Media team creates an inspiring environment, allowing artists of all levels to explore lens-based media and the journey of artistic discovery in the unparalleled setting of the Colorado Rockies.
Anderson Ranch is happy to extend a 20% tuition discount* in one- and two-week adult Summer Workshops for SPE members. Please register online and then email reg@andersonranch.org with your membership information and we will make the adjustment once you are in the system. You are also welcome to call 970-924-5089 to register. *Please note that the SPE discount does not apply to The Center / Advanced Mentored Studies program, nor can it be combined with any other discount, scholarship or special offer. 
Supply List
Many of the items you'll need are available in the ArtWorks Store. Please click "View Full Supply List" to see a comprehensive list of items you'll need for this workshop.
Lodging & Meals
Housing is limited and includes shared and private lodging options. Reservations will be managed on a first-come, first-served basis. The earlier you reserve housing, the better your chance of receiving your preferred option. Please note: Workshop costs do not include accommodations. There is no housing or meals available for Fall Studio Sessions Studio Practice programs.
We have established a Business Safety Plan with added layers of precaution that prioritize the health and safety of our staff, students, faculty and guests while continuing to provide you with the Anderson Ranch experience that you know and enjoy.
The Ranch Café meal plan that is included with Room and Board fees strives to provide healthy, creative meals that will nourish your artistic creativity. The meal plan includes 5 days of continental breakfasts that will include a hot offering, 5 lunches with a selection of offerings, and 5 dinners.
Health & Safety
Beginning February 2023, Anderson Ranch will no longer require proof of Covid-19 vaccination for studio and artistic program participants. For your own safety as well as the safety of our community, we highly encourage all program participants to be up to date with their vaccinations for COVID-19 as well as the flu vaccine. We also encourage you to carry health and traveler's insurance.
Scholarships, College Credit & Discounts
Making Art Accessible
Applications for scholarship support are encouraged. Specific scholarships are funded by Ranch supporters, either through endowed funds or special gifts.
Many colleges and universities offer college credit for workshops taken at Anderson Ranch. Discounts are available for students and teachers.
Learn More
You Might Also Be Interested In>