Code: C1015-23
O

Open to All

Students of any skill and knowledge level.
Any Way You Slice It: Introduction to 3D Clay Printing and Digital Tools
Aug 7 - 18, 2023
9AM-5PM
Concept
This introductory course to 3-D clay printing and digital tools prompts students to investigate the synergy between the handmade arts and technology. The workshop goes through every step of the process, from preparing colored porcelain for successful prints, to designing objects in Rhinoceros 3-D, then exploring best practices for operating clay and plastic printers and finishing the surface of 3-D printed objects. Students are encouraged to experiment and take risks, combining 3-D printed ceramic and plastic models to create boundary-pushing sculptures or vessels. Students can expect to bring their newly developed digital skills and tools back to their own studio practice.
Media
Colored porcelain, PLA plastic filament. Rhinoceros 3-D, 3-D clay printer, 3-D plastic printer
Supply List
Faculty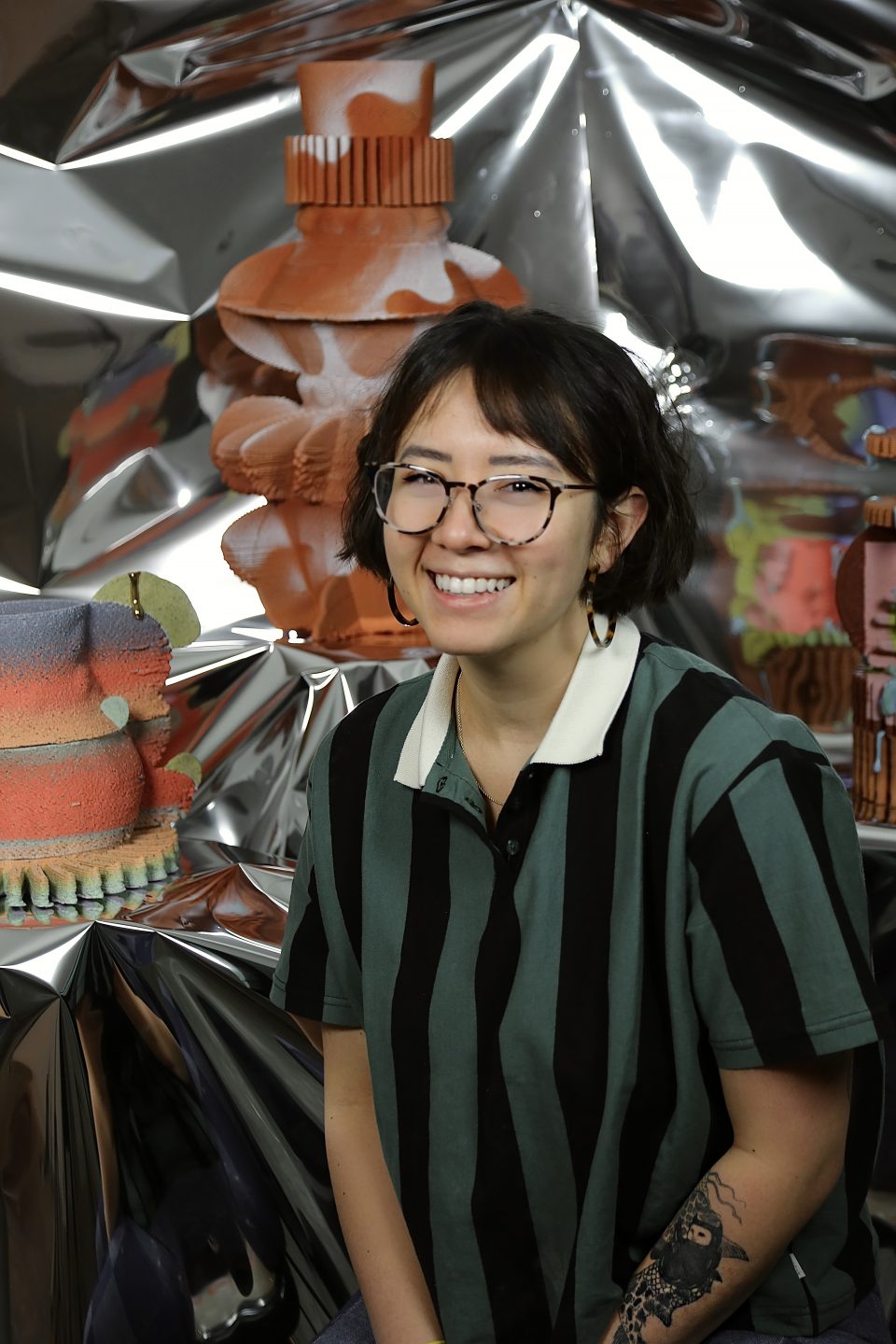 Jolie Ngo
Jolie Ngo is a Vietnamese American artist based in Philadelphia, PA. She holds a BFA in ceramics from Rhode Island School of Design and an MFA from the NYSCC at Alfred University. Utilizing a clay 3-D printer, she creates bright cyborgian design objects that acknowledge early ceramic traditions while smiling towards the future.
Tuition: $1,400.00
Studio Fee: $200.00
Registration Fee: $45.00
Join Waitlist for Any Way You Slice It: Introduction to 3D Clay Printing and Digital Tools
Ceramics
In 1966, American raku ceramicist Paul Soldner selected the site for what is now Anderson Ranch Arts Center, forming the foundation for a thriving ceramics program. Then and now, Anderson Ranch is a place where students exchange ideas and examine ceramic art and pottery-making techniques. It has always been a place where seminal moments of growth happen in an artist's creative and critical thinking. Here, both beginning and emerging artists gain strong fundamental support, while established artists achieve new perspectives and advance their techniques.
The Ranch Ceramics team provides support, feedback and technical problem solving, giving each artist the freedom to experiment and grow. Our primary focus is on personal advancement through a process of creative discovery. We also offer community engagement through events like our Locals' Clubs "Circle of Fire" where artists engage with the Ranch outside of the workshop setting.
The Soldner Ceramics Center makes up more than 10,000 square feet in three buildings. The Lyeth/Lyon kiln building is equipped with gas, electric, soda and wood kilns for both oxidation and reduction firings at all temperature ranges. The Ranch offers three wood kilns, four gas reduction kilns, one soda kiln and eleven high-temperature electric kilns.

Anderson Ranch is happy to extend a 20% tuition discount* in summer one- or two-week adult workshops for NCECA members. Please register online and then email reg@andersonranch.org with your membership information and we will make the adjustment once you are in the system. You are also welcome to call 970-924-5089 to register. *Please note that the NCECA discount does not apply to The Center / Advanced Mentored Studies program, nor can it be combined with any other discount, scholarship or special offer. 
Supply List
Many of the items you'll need are available in the ArtWorks Store. Please click "View Full Supply List" to see a comprehensive list of items you'll need for this workshop.
Lodging & Meals
Housing is limited and includes shared and private lodging options. Reservations will be managed on a first-come, first-served basis. The earlier you reserve housing, the better your chance of receiving your preferred option. Please note: Workshop costs do not include accommodations.
We have established a Business Safety Plan with added layers of precaution that prioritize the health and safety of our staff, students, faculty and guests while continuing to provide you with the Anderson Ranch experience that you know and enjoy.
The Ranch Café meal plan that is included with Room and Board fees strives to provide healthy, creative meals that will nourish your artistic creativity. The meal plan includes 5 days of continental breakfasts that will include a hot offering, 5 lunches with a selection of offerings, and 5 dinners.
Beginning February 2023, Anderson Ranch will no longer require proof of Covid-19 vaccination for studio and artistic program participants. For your own safety as well as the safety of our community, we highly encourage all program participants to be up to date with their vaccinations for COVID-19 as well as the flu vaccine. We also encourage you to carry health and traveler's insurance.
⠀
Scholarships, College Credit & Discounts
Making Art Accessible
Applications for scholarship support are encouraged. Specific scholarships are funded by Ranch supporters, either through endowed funds or special gifts.
Many colleges and universities offer college credit for workshops taken at Anderson Ranch. Discounts are available for students and teachers.
Learn More
You Might Also Be Interested In>